Like New – Only Better
Whether you want to update your home, recover from storm damage or enhance curb appeal, ADC Restorations brings style, resources and craftsmanship that makes the process as attractive as the finished results.
Acreages and Estates
At ADC Restorations, we understand that different types of properties require different attention. As a general contractor, we specialize in all aspects of restoration, from homes to outbuildings, sheds and stables – and from exteriors to interiors and structural issues.
Here When You Need Us
At ADC, our clients continue to fuel the growth of our business. It's a relationship we take seriously. That's why you'll find we're available to take your call, answer your questions and offer a full range of design-build services – from restorations and remodeling to new custom home design-build.
Your home never looked better.
Curb appeal isn't a quality reserved exclusively for a homebuyer. When it comes to your home, the most important audience is you. With restoration services from Advance Design & Construction, you're able to make coming home feel better than ever, especially if you've suffered storm damage.
Update your home's style
Our full-service restoration capabilities enable you to adopt new exterior features, finishes and materials to create a fresh appearance. Advance Design & Construction's three dimensional design technology lets you see how it looks before you make decisions and work begins.
Increase value. Decrease maintenance.
We're also able to introduce you to new products, energy savings and updates that deliver greater value to the livability and maintenance of your home.
Frequently Asked Questions
Aren't you custom homebuilders?
For nearly 20 years, Advance Design & Construction has been one of the area's leading custom design-build firms. In fact, it's our relationships with clients that led us to develop other divisions that enable us to better serve homeowners, with dedicated teams that bring the same attention to detail, service and results. More than simply replacing damaged materials with new, ADC Restorations looks deeper to ensure the soundness of your home's structure, provide detailed plans and estimates and implement a process that ensures you're part of the process from start to finish.
Do you provide an estimate?
Absolutely, it's the only way to ensure that you understand exactly what we're proposing, the costs associated with the project and that we meet your expectations at completion.
Do you work with my insurance company on my storm damage claim?
Yes. ADC Restorations has a licensed claims adjuster on staff to assist you with all aspects of the replacement or repair of your home's roof.
Do you guarantee your work?
Our written, detailed estimate and online project management tool ensures you're part of the process from start to finish. It details the people, materials and work we perform, as well as your input and approvals along the way. So, you never have to worry that the work we perform is anything less than you would expect. If you ever have questions or problems in the future, you can rely on ADC Restorations to be here, locally, to address them.
Who is my contact?
Like all the work we do at Advance Design & Construction, a project manager is assigned to your restoration project. This individual is available by phone, e-mail and on-site to visit with you about any aspect of your restoration. In addition, our online project management system allows you to review all activity at any time, from the convenience of your computer, tablet or smart phone.
How do I know when my shingles need to be replaced?
As a general rule, if you see cupped, curled or even missing shingles, you'll want to contact ADC Restorations or another licensed professional. We're able to go up on the roof and inspect the shingles and other aspects of the roof to see if there's cause for concern or if everything appears normal. If there is damage, you may not need to replace the whole roof. It might just need a repair. ADC will provide you with a free estimate.
What shingles are allowed in my neighborhood?
Your neighborhood association or covenants are a great place to check for any restrictions or guidelines on the types of shingle materials that are permitted in your neighborhood. If no specific materials are mentioned, they may specify roof materials based on shingle quality, which is measured in the years of wear. Generally the greater the number of years a roofing material is rated, the thicker it is. For example a quality asphalt shingle from Tamko or Heritage will be rated for 30-50 years. Many homeowners move to a "lifetime" roof that offers minimal maintenance and worry – especially when made of a composite material from plastics and rubber offered by DaVinci Roofscapes. ADC Restorations is able to show you samples that allow you to understand the difference. They also let you see available options in terms of color, texture, shape and size of the shingles – along with photos of how they look on a completed roof.
Should I replace my windows?
Before you decide to replace your windows, you should find out the age of your current windows and look for signs of aging like fog or moisture between the glass. What about water stains in the drywall or wood trim around the windows? If any of these signs are evident, please contact ADC Restorations and or licensed professionals would be happy to come out investigate. Estimates are free.
What is the best option for replacing my current siding?
Generally speaking you'll want to replace your siding with a material that will last longer than what you currently have and that stands up to the extremes in weather our area is known for. ADC Restorations is a great resource for learning more about the options that are available to you. Vinyl and metal siding offer a great maintenance-free and worry-free products, but are often not allowed in neighborhoods with active HOAs and covenants. These materials can also fade, chip and crack over time. That is why concrete lap siding like Hardieplank from James Hardie is increasingly used. It usually isn't restricted by covenants and is made from a proven durable material. Before you replace or remove your current siding, be sure to check with your neighborhood association or covenants for restrictions.
How do I get a quote on my potential work?
Give ADC Restorations a call to set up an appointment. We'll come out to visit with about your needs and discuss what you best next step could be.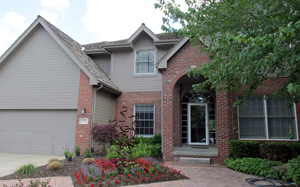 Recent Blog Posts
Learn from the top thought leaders in the industry.
Custom Home With A Gym? When people ask me about this house the first question is; A gym? I always answer with "I know it's awesome!" and that is quickly followed up with a "Did you go down the slide?". That's when the conversation goes into who, what, when, and where...
read more
Don't Be Shy
If we didn't answer all of your questions, feel free to drop us a line anytime.
Get In Touch